Join us for Demo Day, hands-on training classes, and more at The Water Tower!
A Space to Innovate and Elevate: TWT 2022 Annual Report 
Thanks to our partners, tenants, and friends, we had an incredible year full of innovation and collaboration. Read our 2022 Annual Report and check out highlights and accomplishments from the first year of our campus being open.
Join us for our next Demo Day event on April 21, 2023!
Demo Day provides the opportunity for water technology companies and manufacturers, consulting and engineering firms, and water utilities to spend the day experiencing the industry's latest technologies in the field and in the control room while networking with public, private and nonprofit peers.
Our first Demo Day in 2022 attracted over 400 attendees from across the country from water and wastewater utilities, businesses, and other organizations. Over 40 companies were represented during the first event. We look forward to making Demo Day 2023 even better! This event is free for utility staff and lunch will be provided.
Sponsorships are available, in addition to exhibitor and attendee registration: Learn more and register.
Currently Recruiting for Water Workforce Training Programs
The Workforce for Resilient Communities Program is underway with multiple cohorts currently in session. The program connects job seekers in Metro Atlanta with the hands-on training and life skills support needed to succeed in an operator, maintenance technician, or lab analyst positions. We then work with partner utilities to place the highly-qualified candidates to meet their staffing needs. Four and eight month programs are available as well as mentorship, transportation, and childcare support. If you or someone you know is interested in this program, apply here or contact chad@theh2otower.org.
ReSoLve Workshop
The first ever Responsible Succession Leadership (ReSoLve) workshop was held at TWT on February 2-4. Women water leaders from across the country gathered for the multi-day event to discuss challenges and strategies that senior leaders face when succession planning. Thank you to all who joined us for this inaugural event!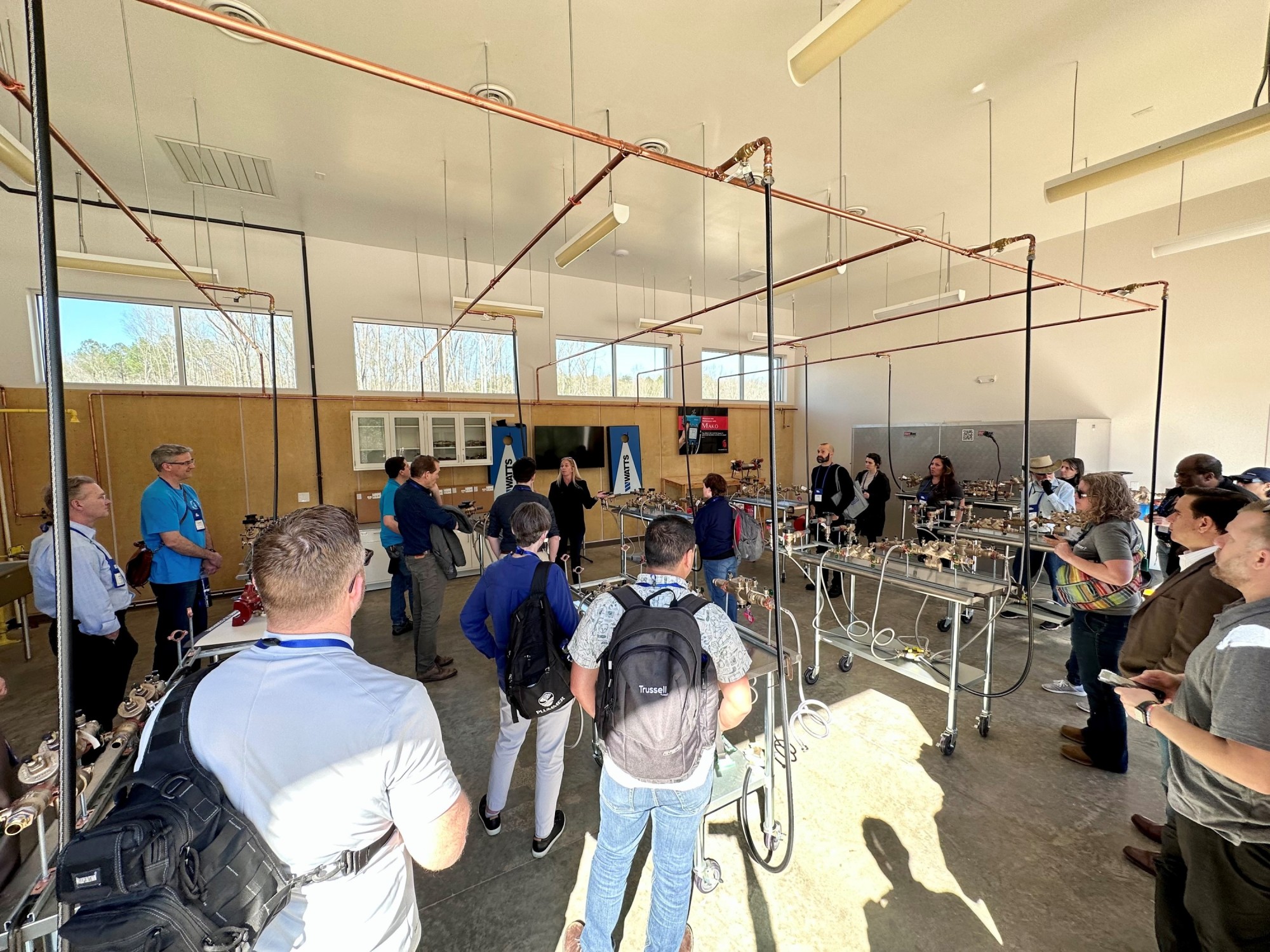 WateReuse Symposium
The Water Tower staff had a strong presence at the Annual WateReuse Association Symposium in Atlanta earlier this month, including serving as conference co-chair, hosting a Sunday tour of TWT and the F. Wayne Hill Water Resources Center, and presenting during technical sessions, workshops, and panels.
Women, Water & Wine
It was wonderful to see so many connections made during our Women, Water & Wine networking reception on February 16. W3 events provide space for women in the industry to connect and network in a casual environment. Interested in joining us for our next reception? Register for our next event on May 18!

Work at The Water Tower 
TWT has become home to many water related businesses including Brown and Caldwell, Carollo Engineers, Garver, Gresham Smith, Reeves Young, and Wade Trim. Our campus features short and long term rental options for water-related businesses, including the H2Co-Working program, moving your office to our third floor or Phase II building, and build-to-suit sites on campus.
TWT Social Media Star of the Quarter
Alan Roberson
@AlanTheWaterMan
Thank you for your support!
Want to be featured as the next #TWTSocialMediaStar? Follow, comment, retweet, and share @theh2otower.
The Water Tower consists of two nonprofit organizations: The Water Tower at Gwinnett, a 501(c)4 – responsible for the development and operations of the campus, and The Water Tower Institute, a 501c3 – responsible for solutions, instruction, and engagement programming. Together, these entities are cultivating an ecosystem of water innovation fueled by imagination, informed by research, and powered by pioneers. The Water Tower brings together public and private sectors of the water industry, side by side with academia and nonprofits, to tackle the industry's greatest challenges.