The Water Tower, officially launched in 2019, is actually two nonprofit organizations: The Water Tower at Gwinnett, a 501(c)4, which is responsible for the development and operations of the campus, and The Water Tower Institute, a 501c3, which is responsible for our solutions, instruction, and engagement programming.   
Together, these entities are committed to creating a thriving ecosystem of water innovation fueled by imagination, informed by research, and powered by pioneers. This is being accomplished by bringing together the public and private sectors of the water industry, side by side with academia and nonprofits, to tackle the industry's greatest challenges. 
The Water Tower Institute Mission
TWTI (501c3) will be a hub for solutions in research, technology, training and engagement for water utilities ensuring access to safe, affordable and resilient water services.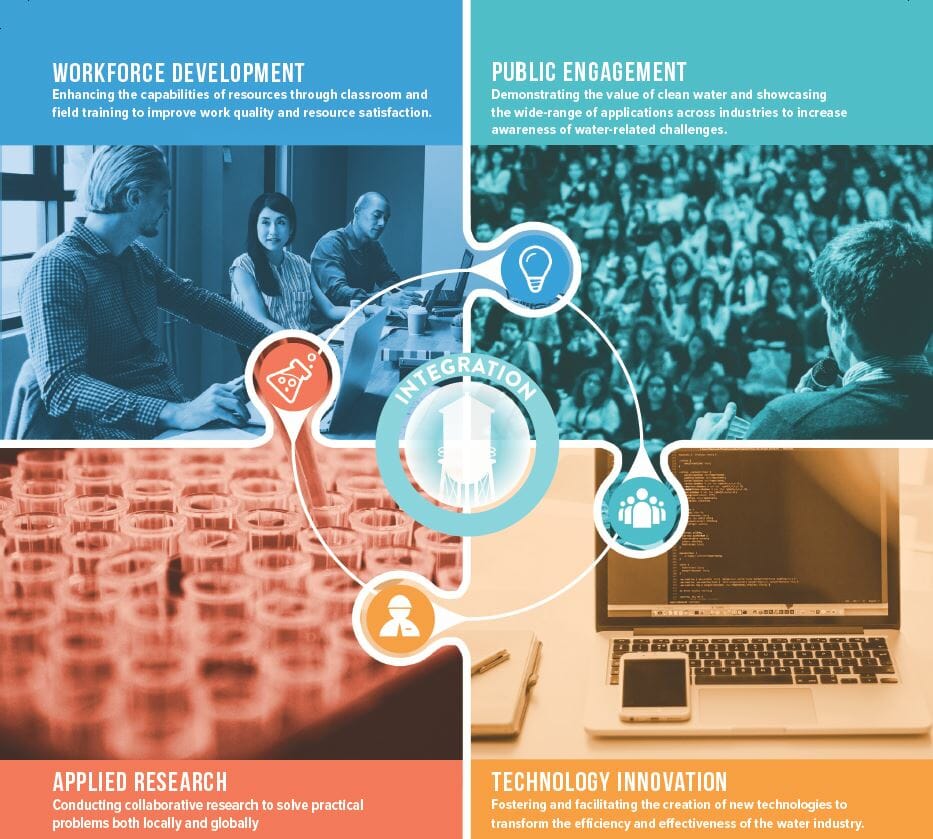 The Water Tower at Gwinnett Mission
TWTG (501c4) will develop world-class physical infrastructure and dynamic human capital needed to inspire and implement transformational programming.
Gwinnett County has a long standing reputation for being proactive, especially when it comes to water. The F. Wayne Hill Water Resources Facility, constructed in the early 2000s, is still considered one of the most advanced water reclamation facilities on the Eastern Seaboard. The leadership on the County Commission and at the Department of Water Resources started talking about creating a water innovation center several years ago. Although it has taken a bit longer than hoped and has gone through iterations, the dream that has become The Water Tower is coming to fruition. 
The vision of an innovation campus has become reality. Testing and demonstrating new technologies has begun at our active demonstration space. With a focus on digital technologies, which have an enormous amount of potential to positively impact water utility efficiencies, The Water Tower is able to visually display results from technologies being demonstrated.