The Water Tower serves all of its stakeholders from water industry personnel to the general public to policy makers.  We recognize that by engaging the customer/public with timely, accurate, and actionable information, these important stakeholders can be brought into the overarching policy discussions while utilities improve their overall transparency.  This starts with the development of a platform, or ecosystem, where the public can learn about water and their role in its management, as well as gaining an understanding of the technological and financial considerations that go into delivering a high-quality product.
The Water Tower will offer specific engagement opportunities with water-related experts from around the world and right here in Gwinnett, STEAM-related workshops and camps, and space for the public to see research and technology demonstrations in practice.
The Water Tower Engagement Activities
Digital Learning Materials
The Water Tower developed water science videos with experts across the U.S. to provide teachers with educational material for their digital learning days. View the videos on The Water Tower's YouTube channel.
Career Fairs

The Water Tower attends local career fairs and hosts job shadowing events to foster interest in water industry careers for students in middle school, high school, and beyond. Learn more.
Job Shadowing

We offer job shadowing opportunities to interested students, teachers, principals, and others to learn more about what it's like to work in the water industry
The Watering Hole Golf Tournament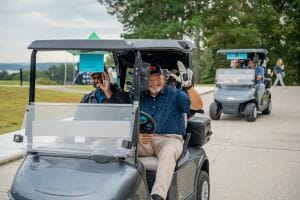 The Third Annual "Watering Hole" Golf Tournament benefiting The Water Tower Institute programming will be held on October 27, 2022. Learn more. 
Tour F. Wayne Hill Water Resources Center
The Water Tower provides members of the public with interactive tours of the world renowned F. Wayne Hill Water Resources Center in Gwinnett County. 
Water Innovation & Leadership Summit
The Water Innovation & Leadership Summit (September 23, 2022) will bring 9th-12th grade students to TWT to learn more about water-related careers and participate in hands-on STEAM projects. Learn more.
Virtual Book Club

The Water Tower hosts a hybrid in-person and virtual book club, featuring a water-related book. The author joins us live to talk about their book and answer our questions. Learn more.
Student Design Competition
The Water Tower collaborated with the Gwinnett School of Mathematics, Science, and Technology teachers and students for a water engineering design competition. Learn more about the 2020 competition.
W3 Networking
Each quarter, The Water Tower hosts a "Women, Water, & Wine" (W3) networking event for local women in the water industry to connect and expand their networks. 
Get Involved!
Success of our nonprofit is directly related to a robust ecosystem of interaction. Together, we can do more than we can do alone. Let's bring our abilities and passions together to affect real change in the water industry. Contact kristan@theh2otower.org to learn more about participating in programming, volunteer opportunities, and more!
Another great way to support The Water Tower is to donate new or gently used items. We are currently seeking donations of the following items to support our nonprofit programming. With the right tools, you can help TWT provide more comprehensive programming. 
Laboratory Equipment

 

Video Camera Equipment

 

Graphic Design Software

 

Outdoor Projector and Screen

 

Outdoor Stage and Lighting Equipment

 
Donors will be recognized on TWT's campus, website, social media, and annual report. All donations are tax deductible. 
Subscribe
Get on our mailing list and check back here for new workshops and events being offered.