Innovation through Collaboration
In town for a conference? Need a change of scenery from your home office? Want to be where the action is?
Join our ecosystem of innovation through the H2Coworking Membership Program!
The Water Tower has dedicated "short term" co-working space designed to support start-ups and water industry personnel who desire a more collaborative work experience. 
Day and monthly memberships available

 

Multiple conference rooms 

 

Private, dedicated single and double offices available

 
Membership Amenities
24/7 Access to Facility

Phone and Huddle Rooms for privacy

Wifi Access

Printer/Fax Access

(100 Sheets/Month)

Use of Conference Rooms for Up to 4 Hours per Month

Reduced Lab & Demonstration Area Fees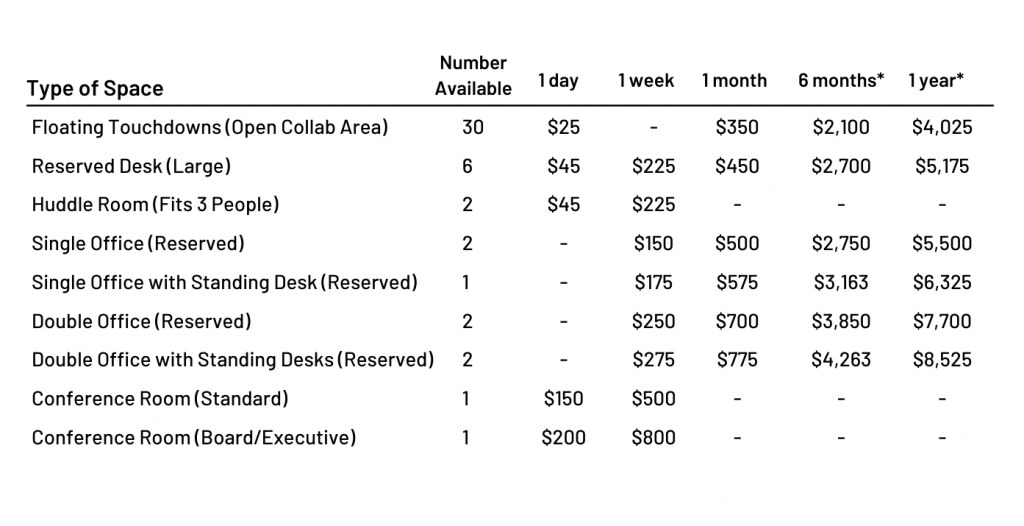 Please Note:
Floating Touchdown options include a small desk, chair, or seat at a couch.

Months are rated at 30 days per month and are not adjusted for shorter or longer months.

*Six month and yearly memberships are discounted.
For more information please contact info@theh2otower.org
Be part of our ecosystem!
Construction of The Water Tower's main building, demo area and field training center are nearing completion, with our Ribbon Cutting Ceremony scheduled for March 30, 2022.  We encourage you to check out the many options for having a physical presence on the campus! 
The Water Tower Campus intends to become an international destination for water innovation. Thus, all businesses located on the Campus must be engaged in a business that is in furtherance of "Water Innovation Purpose" – defined as:
1) Conducting industry-leading research on water science, including technologies to monitor and treat water;
2) Creating and sustaining partnerships with universities, foundations, utilities, and private industry in order to facilitate the research and application of water science;
3) Providing economic opportunities for County residents in the form of workforce development programs;
4) Educating the general public on the importance and impact of water and the work performed at the Water Tower.