We are excited to release our 2022 Annual Report to highlight and honor the work made possible by our partners, collaborators, and friends of TWT during our first year of the campus being open. We could not have done it without the support of our incredible ecosystem of innovators who strive each day to help us achieve our mission of industry advancement through solutions in applied research, technology, training, and engagement.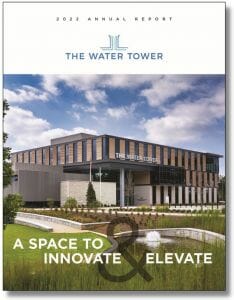 Events at The Water Tower provide networking, training, professional development, STEM education and more to water professionals currently in our industry as well as the next generation.
There are several ways to get involved with The Water Tower. Whether you are a utility, business, technology provider, school, university, NGO, student, or individual, there is a place for you at TWT!
Partnering with The Water Tower provides a unique opportunity to participate in leading-edge research, technology innovation, and next-gen programming.
Explore our partnership options, Friends of The Water Tower program, and join our ecosystem of innovation!