Backflow Prevention Day Celebration, EPIC 2023, 4th Annual Golf Tournament, Training Program Scholarships, Call for Board Members, and more in this quarter's edition of The Elevated Perspective Newsletter from The Water Tower
National Backflow Prevention Celebration Day Events
Join us for this year's National Backflow Prevention Celebration events on August 15 and 16, 2023. As part of the celebration, a one day hands-on Backflow License Renewal course is being offered on August 15. Registration for this event includes the course, networking reception following the course, and registration for the celebration on August 16. You can also register for only the August 16 Celebration and receive 6 W/WW CEs or 6 CEs for Georgia Plumbing License Renewal.
Register for both events and receive a registration discount, networking reception on the evening of the 15th, and equipment calibration included. We hope to see you there!
Ecosystem Collaborator Updates
Scholarships Available for Water Training Programs
The Workforce for Resilient Communities Program connects job seekers with the training and support needed to succeed in an operator, maintenance technician, or lab analyst position. Training courses, hands-on requirements, PPE, materials, and professional skills coaching are covered by the scholarship including support for transportation and childcare for Gwinnett residents.
Upon certification, TWT works with partner utilities to place the highly-qualified candidates to meet their staffing needs. Four and eight month programs are available as well as mentorship, transportation, and childcare support. If you or someone you know is interested in this program, apply here or contact chad@theh2otower.org.
EPIC 2023 Coming to The Water Tower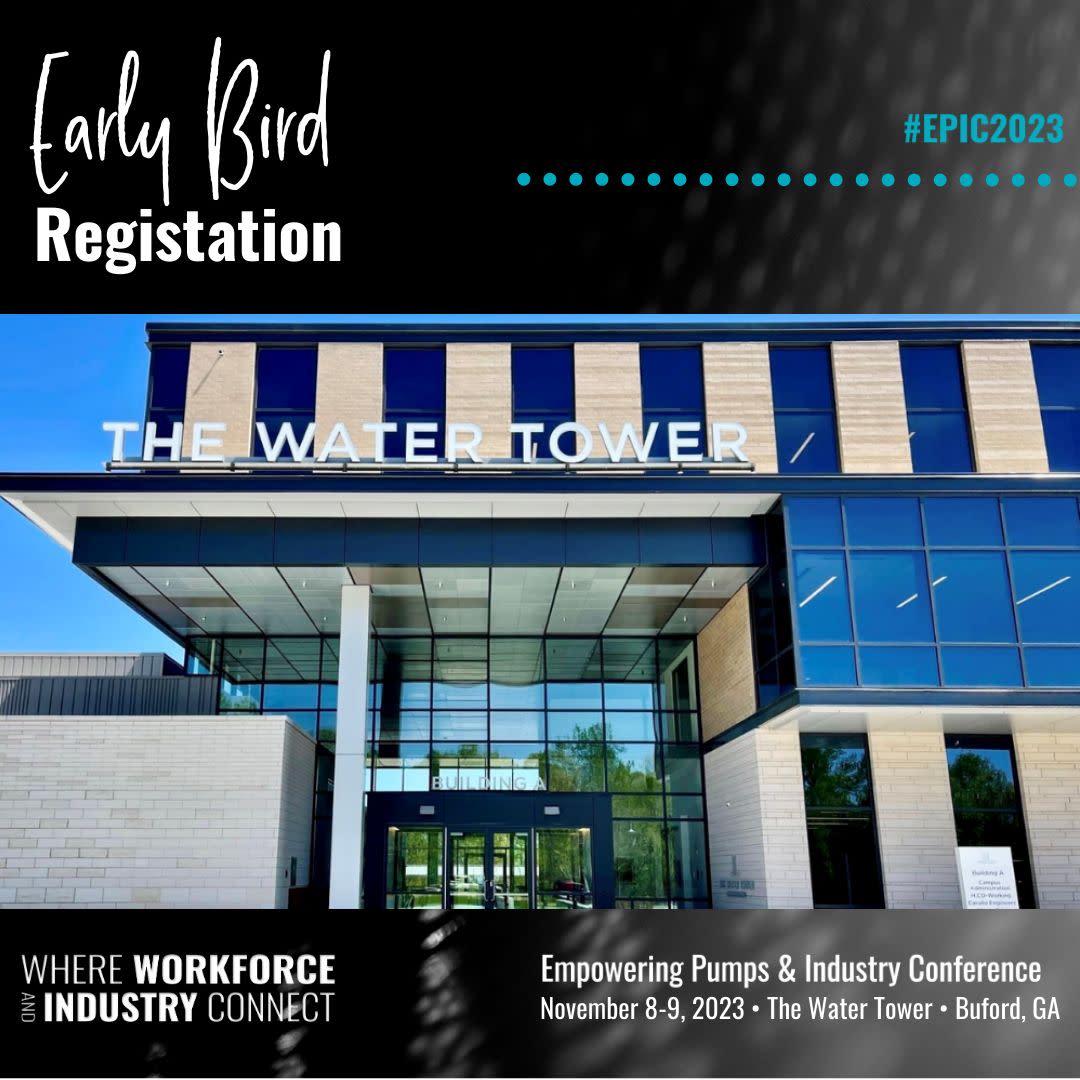 The Empowering Pumps & Industry Conference (EPIC) will be held at TWT on November 8-9, 2023. Join us for two action-packed days filled with insightful presentations, interactive discussions, innovative exhibits, and more. Early Bird registration is now open.
Secure your spot now and enjoy discounted rates at this premier event for manufacturers, distributors, end users, associations, and students. Learn more and register.
TWT is a proud partner of the WateReuse Symposium, taking place on March 10-13, 2024 in Denver, Colorado. This year's theme is Removing Barriers, Elevating Opportunities. Transform your ideas, best practices, and research into a presentation for the world's premier water recycling event. Presentation opportunities include 60 minute panels, 30 minute presentations, and poster presentations, and are meant to spark imagination, encourage dialogue, and drive new solutions for greater adoption of water recycling. The Call for Presentations is open now - learn more and submit here by September 14.
Demo Day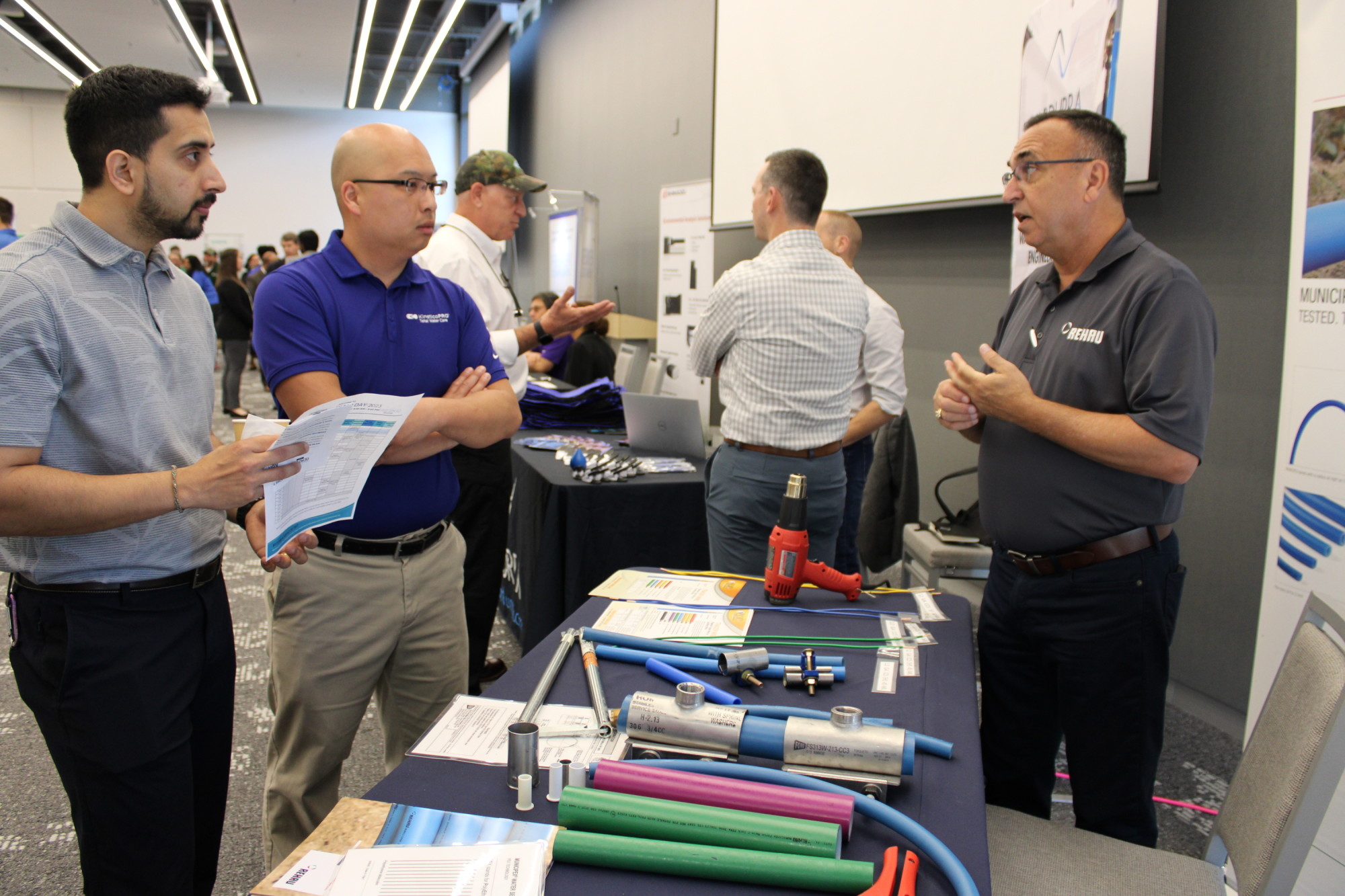 We welcomed over 270 water professionals to our campus on April 21 for a day of hands-on demonstrations, classes, and networking. Thank you to all of the incredible attendees, exhibitors, and sponsors for your help with making Demo Day a success!
Dutch Technology Showcase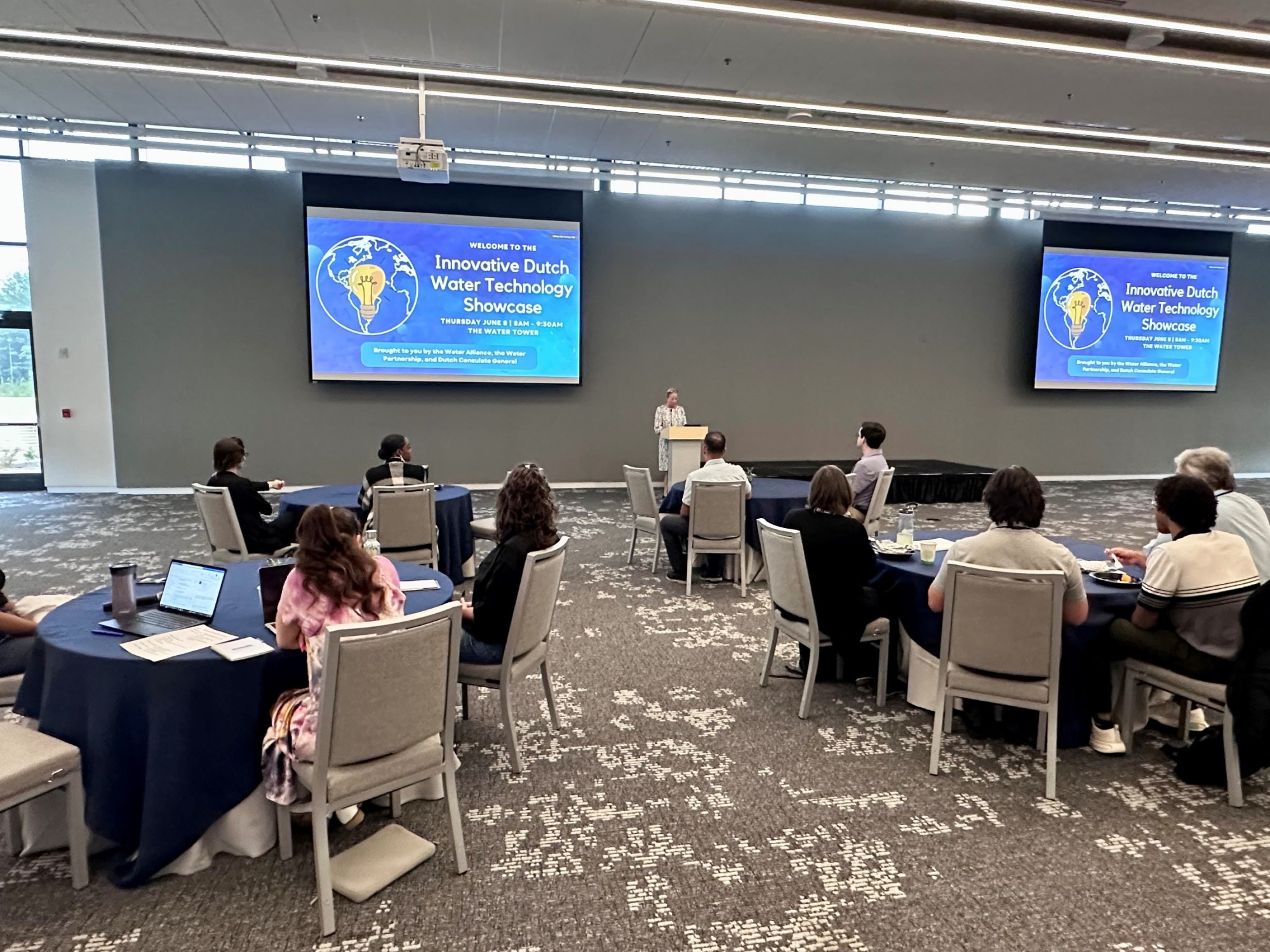 In partnership with the Water Alliance, Water Partnership, and Dutch Consulate General, TWT hosted a Dutch water technology breakfast on June 8. Attendees heard  lightning pitches from cutting-edge water technology companies in the Netherlands including Paques, PB International, Berghof Membranes, Oxycom, UVOX, and NX Filtration.
TWT Interns
We have an incredible group of interns at TWT this summer who are working on projects in research, database management, social media marketing, and more. Check out our blog to learn more about these awesome individuals, projects they're working on, and what sparked their interest in the water industry. Thanks to Partnership for Inclusive Innovation for their support for our summer internship program!
Save the Date for the Watering Hole Golf Tournament
The Fourth Annual TWT "Watering Hole" Golf Tournament is set for October 26, 2023 at Lanier Islands Legacy Golf Course. Join colleagues, clients, water professionals, and members of the community for a day of laughter, networking, and community in the name of water innovation with the beautiful backdrop of Lake Lanier. Proceeds from the tournament support The Water Tower Institute's mission of providing solutions for utilities - we couldn't do it without your support!
Registration for golfers (teams of four, pairs of 2, single, and non-golfer options) and sponsors is now open. View the Golf Tournament Sponsorship Prospectus. 
The Water Tower, comprised of two nonprofit organizations, is currently seeking volunteer leaders to join our dynamic Board of Directors for The Water Tower Institute (TWTI). TWTI's mission is to serve as a hub for solutions in research, training, and engagement for water utilities and the water resources industry ensuring access to safe, affordable and resilient water services. Board members are actively involved in organizational governance and engaging community and industry organizations to support TWT.

The Water Tower Institute nominating committee is currently accepting applications until July 28. Visit our website to apply or nominate a colleague to serve on the Board and help TWTI advance our mission.
TWT Social Media Star of the Quarter
Nancy Sullivan @ AWWA
@nancy_nsullivan
Thank you for your support!
Want to be featured as the next #TWTSocialMediaStar? Follow, comment, retweet, and share @theh2otower.
The Water Tower consists of two nonprofit organizations: The Water Tower at Gwinnett, a 501(c)4 – responsible for the development and operations of the campus, and The Water Tower Institute, a 501c3 – responsible for solutions, instruction, and engagement programming. Together, these entities are cultivating an ecosystem of water innovation fueled by imagination, informed by research, and powered by pioneers. The Water Tower brings together public and private sectors of the water industry, side by side with academia and nonprofits, to tackle the industry's greatest challenges.